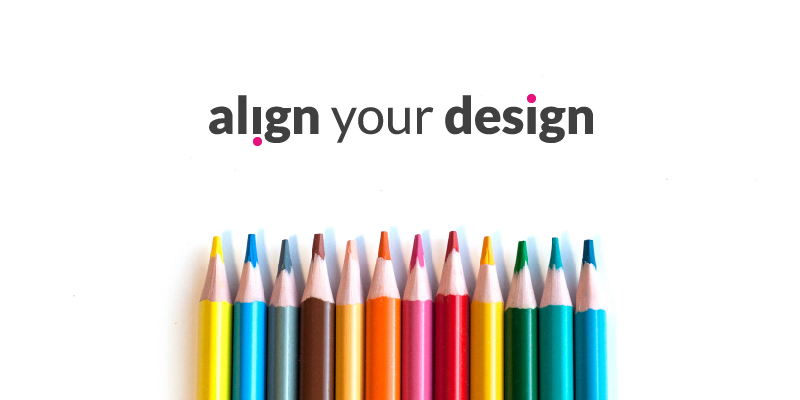 Align your design - How to manage your brand with a clear strategy and design thinking.
As a brand you want to stand for something. You want to be memorable to your customers and you want to be different from your competitors. If you can achieve this then you are on your way to turning your brand into a charismatic brand, where there is no substitute in the minds of your customers. It is your brand they feel they can relate to the most and you are what they want to wear, eat, drive or buy a coffee from.
Branding is about answering big questions about yourself as a business. It's about finding out who you really are. Who do you exist to serve? Why are you different? Why should anyone care?
The most successful companies have a clear understanding of who they are and a clear strategy of how they are going to portray that to the public. Everyone in your company needs to be on board, with the CEO leading from the top.
Every successful brand stands for something in the minds of the consumers, they can resonate with their personalities and occupy a small place in their mind.
It is a challenging task to get to grips with the true meaning of your brand. It requires the aligning of leadership and focus throughout the company. Everyone needs to understand what the brand is, what it is about and how you portray the brand to the public. You need to have a customer-centric approach, which requires you to know and understand how you are different from your competitor.
To stand out from your competition you need to be different. You need your customers to understand why you are different and what you can offer them that is superior. When you are different you are immediately memorable.
Nobody will remember a bland boring brand!
Potential customers need to know your story; human beings love a good story! It is imperative that you tell them about you, and what makes you different. You need to relay what makes you, and fully explain who you are. Your brand is the story that people connect with.
How you tell it is within your branding. You don't own your brand; the public does. They all have their own opinions of your brand and will choose whether they like you or not, and eventually whether they trust you enough to spend their hard earned money with you.
Branding is all about the management of that meaning in the eyes of the public and what they experience in relation to your brand. To achieve this you need to use a combination of design thinking and clever storytelling!
There are certain things that need to be addressed and aligned to ensure you manage your brand successfully.
Brand Culture
You need to align your brand culture from the top down. The CEO needs to feed this back to their team, so that everyone is on board with the culture and how to promote the brand correctly and, almost as importantly, how not to harm the brand.
Brand Culture is about understanding why you exist as a company. Asking the big questions so that you can understand who you are and how you should behave. You need to define your core values and your purpose and ensure everyones in the company understands exactly what you stand for.
You need to educate your employees and align their knowledge of what the culture is and what could potentially damage the brand. You need to develop a clear brand strategy that everyone can follow to the letter.

Your Brand Culture is the DNA of your brand and the values that you uphold. It needs to be clear and precise in every experience, expression and interaction with potential customers, shareholders and employees.
Your Tribe
A business would not exist without its customers (your tribe), and in order to serve your customers you need to have a unique service or product to help them in their daily life.
Brand is not just a makeover; the company needs to have an innovative product that is designed specifically to serve the public. It needs to make their lives better and help them or make them feel better.
Branding can influence business innovation, and design thinking is key to developing a unique and different business model.
You want to create a brand that commands a loyal following of customers who resonate with your brand culture and can associate themselves with you. You need to be clever when design thinking and be customer centric in your approach — find out what your potential customers actually want.
Brand Experience
What is the customer journey when they encounter your brand?
What do they experience at different touch points — online, in print on their social media?
How do you tell your brand's story to the public and enhance your position in their mind?
How do you make the public feel when they think about your brand?
These are all questions you need to ask, understand and answer in order to create an effective brand experience. Your customers' brand experience needs to be carefully planned, telling your brand's story thoughtfully and in line with the brand culture.
You also need to make sure you align the brand experience across all media, with a consistent feel and voice, that is easily recognisable and differentiated from your nearest competition. The journey your customer goes on when they encounter your brand needs to be carefully created to ensure customer satisfaction and retention.
Brand Design
Your brand design begins by understanding your culture and your story, and then you need creative design that embodies your brand culture. You need to produce innovative designs that embody the voice and character of your company, are easily recognisable and different in order to be memorable to the public.
You need the public to connect with your brand and create a long term relationship with them. All charismatic brands have utilised clever creative design in order to be innovative and to own a place in the consumers mind. Your brand is more than just your logo and colours pallet; it's what people think and remember about you.
At Vivi Creative we can help you align your design, which starts with ensuring that you have a clear understanding of your business. We can help you align your culture with a clear strategy, customer journey and innovative designs that portray your brand message and story to potential customers at every touch point.
Aligning your design is what we aim to do here at Vivi Creative. Not only is it our tagline that rhymes, but is fundamentally what brands need to do in order to be successful and memorable.
- Aligning your brand culture from the top down
- Aligning your internal employee knowledge
- Aligning your brand message
- Aligning your brand experience
- Aligning your customer journey
- Aligning your brand touch points
- Aligning your visual design
At Vivi Creative we work with businesses to ensure they have a clear strategy to develop their brand. Let us help you become a charismatic brand with design thinking and creativity.
Thanks for reading.