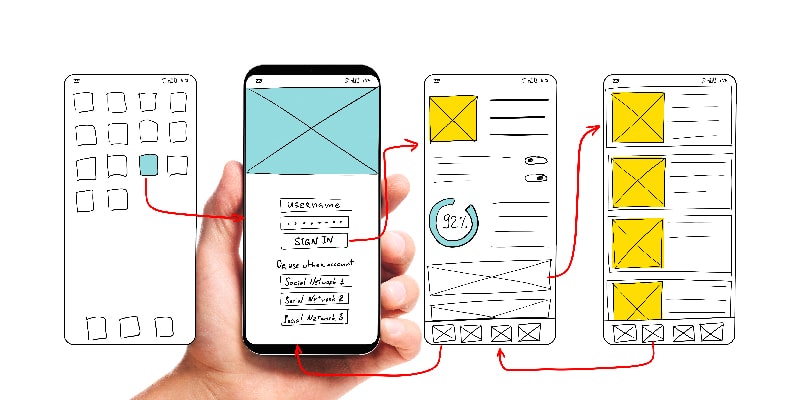 What you need to know about app design and development
The Smartphone market is growing at a rapid rate. There are an estimated 5 billion users worldwide and the number of phones will soon surpass the entire world population.
Global app downloads are estimated to be almost 270 billion by next year. People around the globe spend a vast majority of their day staring at their phones. On average a person spends over 3 hours and 43 minutes a day on their smartphone, that's a scary 50 days a year.
When your potential customers are spending more time on their smartphones than watching TV, what excuse does your business have for not investing in a mobile app?
As a business in today's digital world having a mobile app for your company is of utmost importance. Not only is it safer and faster than loading a website, but you are able to store data more securely and also look like you mean business as a leading light in your chosen field.
If you are a customer centric business then you need a mobile app. It's no longer an option but is now a necessity to grow your business. Every customer has a smart phone in their pocket and every generation is able to access them. Businesses that make a mistake of not creating a mobile app could suffer due to this choice.
Research has shown that people spend 90% of their time on apps rather than surfing the internet. Social networks, messaging and entertainment apps like Youtube account for 51% of the time people spend on their mobile devices.
Tik Tok was the most downloaded app worldwide in March of 2021 with 58 Million installs in a month.
But not only are people quick download apps, they are also quick to see through them, with the average uninstall being a whopping 39% in 2021.
People want easy quick access to their favourite apps, they are currently spoilt with the quality of products downloadable from the app store.
A mobile app can help businesses reach more customers, improve their marketing strategies and provide value for its customers. It increases brand awareness, customer engagement and loyalty. It also gives your business a competitive advantage.
What do apps offer that websites don't?

Better Customisation
Users can set their own preferences
Create personal accounts
Keep vital info handy
Better for targeting audiences
Better for marketing for different groups
Push Notifications
Send notifications to users
Send messages to users directly
Keep audience updated
Mobile features
Use camera, mobile phone functionality
Increase fun in participation
Easy to use
Increase usability
Internet connection not required
They can be used offline
App stores data and uploads when connection resumes
User friendly
More popular than websites
Easier to use
Better experience
Load faster
Easier to navigate than website
Speed
Much faster than website
5 times faster infact
Brand presence
Users spend on average longer on apps than websites
Direct marketing
So it's all very well me telling you about the benefits, but what you need to know is how the hell do you go about building one for your business?
Well at Vivi Creative we are here to help you, we design and develop apps that are suited to your business. We use a multi-phased approach with robust client collaboration to ensure you a quality end product.
Types of App
There are three different types of apps.
Native Mobile Apps
Native mobile apps are designed to be "native" to one platform, whether it's Apple iOS, Google's Android, or Windows Phone.
Hybrid Mobile Apps
Hybrid apps can be installed on devices just like native apps, but they run through web browsers. Hybrid apps work on both IOS and Android phones.
Web Apps
Web apps are basically a responsive version of a website that work on any mobile device and use your mobile browser to function.
At Vivi Creative we use our step by step process of strategy and design to create you an awesome app for your business.
Mobile App Strategy
We begin with a meeting and discussion about your idea for the app.
1. Understand your business strategy
To put it quite simply a successful mobile strategy is where your business goals meet yours user needs via your mobile app design. We want you to think in detail about;
What are the needs of your customer?
How are we going to help your customer fulfil those needs?
2. Business Mobile App strategy
What is the purpose of the app?
What is the benefit that the end-user will drive from using the app?
Define the App strategy
3. Target Audience
KPI's (key performance indicators) How does the App add value to the business?
Marketing plan - Where do your customers hang out? How are we going to target them?
4. Develop Testing Strategy
This is probably the most understated and important factor of developing a mobile app. We want to make the app as easy to use and functional as possible. The customer journey and satisfaction is of upmost importance.
User testing
Prototype of app
Mobile App Design Strategy
The next stage is looking at the design and development. We incorporate everything we have discussed and start the multi phase process below.
1. Plan of attack
Objectives and goals of the app
Phases and sub phases
Tasks and resources
Budget
Schedule for completion
Nature of App
Features
2. User/market research
Target audience
Market research (competitors - existing apps)
User research (target audience - emotional connection)

3. UX wireframe (User experience)
Architectural blueprint for your app
Flow of App
Number of pages/buttons
User journey map
4. Prototype
To test & improve functionality
How the App works
5. UI design (User interface)
Visual representation
Look and feel of the App
6. Animation
Animation should be functional instead of a simple design element
7. Software architecture
This is perhaps the most crucial part of the entire design process. The core purpose of software architecture planning is to scale the app, make it better in terms of functionality and design.
Work together as a team - regular discussion
8. App development
Hybrid App
IOS - Android
Web App
9. Testing
Ensure there are no bugs
Smooth customer journey
Usability test
10. Release WOO HOOO!!!!
App is uploaded to App store
Marketing campaign begins
The process usually takes between 2 and 3 months depending on size and complexity of app design. There is a lot of information to take in here, it is always better to talk in person about the process and answer any questions that you may have. I hope this article has explained the process and made it a little easier to understand.
Please don't hesitate to get in touch with Vivi Creative, we offer a free hour consultation to discuss your business and app needs.
Thanks for reading.