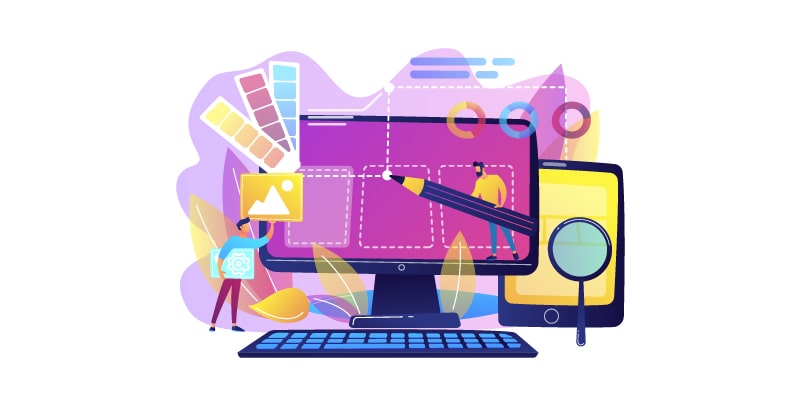 What's the difference between Apps and Websites?
What's the difference between apps and websites? Do I need an app? Are apps better than websites?
These are questions I am often asked by clients, there seems to some confusion as to what are the benefits of both. So I thought I would write a short blog post to compare the two.
If you are starting out in business and are looking for an easy accessible online presence for your business, then a website is perfectly fine. There are lots of different ways to build websites and to be honest the sky is the limit on how much you want to spend on a website.
You can read more about Vivi Creative's guide to websites here.
As your business grows you may want to consider building an app. There are a multitude of reasons why an app can benefit your business.
In 2021 people spend more time on mobile phones than they do on laptop's. People spend a large amount of time on smartphones and the majority of that time is spent using apps. Apps load a lot quicker than websites, and with the average retention and concentration levels of people being at an all time low this is a huge benefit. People want things now and they want them fast.
On average people spend 90% of their time on apps, and in fact usually the same five or 6 apps. With social network apps being the favourites.
Below is a list of some of the features that Apps offer that differ to websites.
Better customisation
Having an app allows businesses to have far more customisation options available for users. They are able to create accounts and set personal preferences to aid the user experience of the device. This enables you to keep vital information handy and easily accessible to audiences and businesses.
By personalising apps, businesses are able to develop their app to meet the needs of specific audiences. The app then aims to to help and aid specific needs of the customer rather than a broad one size fits all model.
Push notifications
Having an app for your business gives you far better options for targeting your audience, by marketing directly to different groups through personalised messages.
Push notifications are sent to users as pop ups and reminders, they can be used to notify them of any offers, and will keep your audience updated and informed of any developments.
Internet connection
A benefit of having an app over a website is that you do not need to have an internet connection to access the app. They load straight away and can be used to enter information or upload images without a connection.
Apps can be used offline and the app will store all the data and will upload it when the connection resumes. There is nothing more frustrating them watch the load circle when you are in a hurry.
Mobile features
Another bonus of using an app on a smart phone is that you are able to use all the functions of the phone, including the camera and video. This can aid the process of scanning Qr codes or uploaded an image or photo from the phone's memory.
This ease of use is a bonus in increasing participation in the app. If your app is enjoyable to use and people can have fun while participating in it, then they are more likely to revisit and reuse .
User friendly
The more user friendly your app is the better. UX (user experience) is all about creating a customer journey that
is easy to use and navigate. A complex app will turn people off and they will delete it pretty quickly.
On the whole apps are more popular than websites as they offer a better experience for users and are easier to navigate than a website. The design needs to be more simplistic so that it works on the wide variety of phone screens available.
Speed
An app loads generally five times faster than a website which offers an increased user experience. There is nothing worse than waiting for images or videos to load.
On average people spend a lot longer on apps than websites and the speed of the content appearing has a large part to do with that.
The amount of time people spend on your app can only benefit your business. It allows you to have more of a brand presence and to introduce them to offers and content.
This was just a few of the main benefits of having an app over a website. At Vivi Creative we are here to help you decide what is best for your business. So please don't hesitate to get in touch today.
If you are interested in developing an app for your company then you can read more here.
Thanks for reading.